Between the timezone change, the slight drizzle outside, and my comfortable warm bed, I had the hardest time getting up. I mean… Glacier! But Warm Bed! I'd been running on about 5 hours of sleep for the past few nights, so this argument was more difficult than you'd think. But I eventually got up and then, one by one, convinced the other members of my family to do the same. We didn't get out of the campground until after 10.
We hit the Apgar Visitor's Center and asked for recommendations on what to do while we were here, given the slight drizzly weather and the three small children with me. Unfortunately, the iconic Road-to-the-Sun was closed after 16 miles. We decided to go ahead and take it as long as we could, and stopped by McDonald Falls when a parking spot opened up while we were driving by.
Auggie had a good time going up and down the stairs (his favorite thing). Gigi had a good time using her new binoculars, a gift from her birthday party a couple of weeks ago. And Des started figuring out how to use his camera, one of Aaron's old ones.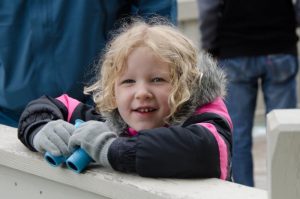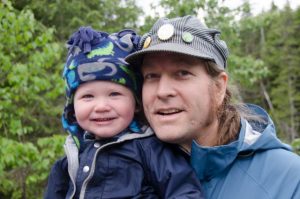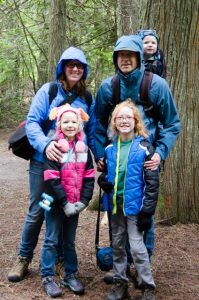 Afterwards, we loaded back into the van towards Avalanche Creek, the last stop before the road was closed. Ominously, a posted sign warned us that parking at Avalanche Creek was full. We ignored it and hoped for the best, continuing on our journey along with a line of cars both in front of us and behind us, apparently all doing the same.
Avalanche Creek has a campground that was currently closed, so they were letting everyone park their cars in the campsites. We circled unsuccessfully around Loop A, pausing hopefully in front of some sites where it looked like people might be leaving, but getting waved off each time as they shook their heads and pointed towards the ground. At the end of Loop B, we miraculously found an empty spot. I kept looking around for the catch since it really was fantastic luck, but it was, indeed, a legal parking spot.
Aaron loaded up Auggie in the baby backpack. I distributed hats and gloves. It was drizzling but nothing we weren't used to in a normal Spring/early Summer day in Portland. And so we started our first hike in Glacier. Trail of the Cedars is beautiful, lined, not unsurprisingly, with a number of large old cedar trees and huge stumps from giants long gone.
A good portion of the path consists of a wooden walkway, and there are periodic signs with short, beautiful poems describing the area. The loops is only about a mile long, and it's very flat, so it was really more of a stroll than a hike, but it was lovely and relaxing and totally worth the stress of finding a parking spot.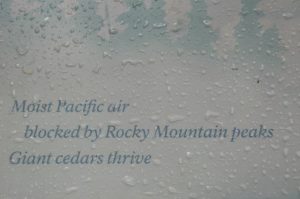 There is, of course, a creek near the Avalanche Creek campground with an amazing waterfall.
Afterwards, we loaded back into the van and went back to Fish Creek for a late lunch. Aaron made some kind of warm, mushy dal while the kids and I played Mille Bournes. (Gigi won, although her path to victory was delayed by a Speed Limit card that she was never able to get rid of.)
After lunch, we explored the Rocky Point Nature Trail located just outside our campground. It was really beautiful; it went over to the nearby lake and up a hill, giving us a great view of the water.
The name of the trail obviously gets its name from a section overlooking the lake with these great rock formations. The older kids and I spent some time scrambling over them while Aaron and Auggie talked to an older couple who were there with their grandkids (although scrambling over rocks).
The trail went uphill fast for a short duration (pant, pant, pant) and over the hill to show us the results of a fire from 2003. The landscape is still full of dead trees that were burnt to their tops as well as living trees that were only charred on the bottom of their trunks. In between them were young, short trees, growing and remaking the landscape.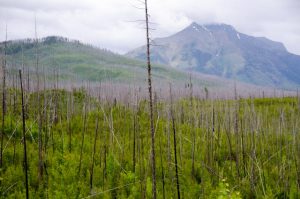 The only bad part about the hike were the mosquitos. Although we got some at our campsite, they were a million times worse near the lake. The only remedy we found was to keep walking; they tend to swarm whenever you stand still, but are mostly manageable if you keep moving. Des, in particular, was not pleased. There was, in fact, quite a bit of whining to break the lake's tranquility. Afterwards, he complained that it was the hardest hike he'd ever been on (totally not true), but then later amended his statement to mostly complain about the mosquitos, which were pretty bad and did really loved him.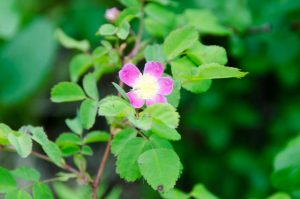 No amplitheater show that night. Instead, the kids made friends with a girl from a few campsites over, who complained to them that she hadn't yet managed to make friends with anyone here, and could she please play with them? They had a lot of fun drawing on the pavement with chalk and pretending to manage the mostly non-existent traffic.
No major hiccups this day; we were worried about being rained out with reports of periodic thunderstorms, but the storms were apparently mostly contained to East Glacier, which we found overflowing with water the next day. But we just had some light drizzle off and on. It was a lovely day, and we got lots of great pictures.