Saturday morning started out with hot tea, coffee, and hot chocolate followed by washing the dishes from the previous morning that I hadn't wanted to attempt in the dark. Gigi, Auggie, and I took a walk around the campground afterwards, looking for a designated place to toss out our dirty dishwater. Turns out there wasn't such a spot, since it's assumed everyone has an RV with a sewer system. We did, however, discover a pretty great playground for the kids.
Unfortunately, our trip to the playground was cut short by sprinkles followed by showers. So we raced back to our campsite. Or, rather, I staggered with a struggling toddler in my arms who just wanted to continue playing at the playground, and Gigi caught up with me a few minutes later after she played with the playground's zipline. We packed up camp quickly, drying things off as best as we could, and headed into Kennewick for lunch. (Indian food. It was delicious!)
After Kennewick, we continued onto Coeur d'Alene, which was our next overnight stopover. About an hour and a half out of CDA, someone in a car waved at us as they passed and pointed to the back of our trailer. We pulled over and discovered the trailer's hitch, to which we had attached a bike rack, had bent, collapsing the rack and dragging the front wheels of all four bikes on the ground at approximately 65 mph.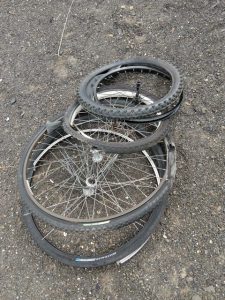 The wheels were trashed, but the bike frames still seemed to be intact. Ironically, the bike rack itself was perfectly fine. When I was shopping for one, I knew that putting a rack on the back of a trailer was somewhat risky; there were reviews for some bike racks in which people complained that their rack bent and destroyed their bikes when attached to a trailer. To which someone replied: the description says explicitly NOT to attach to trailers, dumb ass! So I got a rack that explicitly was rated for trailer use. It never occurred to me that the trailer itself would not be up for the stress. (Aaron thinks, nonetheless, that the trailer itself is probably okay. The part that had the hitch welded to it is bent, but the rest of the crossbeam seems to be fine. We will keep an eye on it.)
We managed to pile all the broken bikes into the trailer (they all fit, amazingly), and I called ahead to bike shops in Coeur d'Alene, finding one that was going to be open when we arrived, that had replacement wheels, and that had a roof rack since I didn't want to keep stashing the bikes in our trailer on top of all our sleeping bags and clothes and all that kind of fun stuff. The early morning rain had ensured that we got out of our campsite just early enough to make this all possible; if it hadn't rained, I'm sure I would have let the kids play on the playground for at least another hour, and then the bike shop that we found would have been closed…. and would not be open again until Monday, when we were scheduled to be in Glacier.
At the end of the day, we had two new roof racks and new wheels for the adult bikes plus an installed kid seat for Auggie on one of them (which I had been thinking about getting done anyway before this whole fiasco happened). Unfortunately, they didn't carry replacement wheels for the kids' bikes (did I mention that we had JUST purchased Gigi a new bike right before we left, and she hadn't even used it yet?) and neither did any other shop in town. They all said they could order one for me, to which I had to reply: That would be great… "except I'm going to be leaving for Glacier in the morning." I felt somewhat like an asshole, but a cool asshole.
Afterwards, we headed to Camp Coeur d'Alene, which was another RV park. As an RV park, it was great… free firewood. Great bathrooms and showers. A fantastic outdoor pavilion with cook tops and sinks with running water for communal use. Laundry facilities. Free wireless Internet access (which is how I was able to publish my last post online). And tons of other stuff that we weren't going to make use of such as paddle boats and canoes, a pool, and some fun play equipment for the kids. But it was still an RV park, with the sites right next to each other without any pretense of privacy. People played music during the day and hung out next to their fire pits right next to the road. It was really great for what it was, and just what we needed as an overnight stop, but it's not my favorite kind of camping.
We skipped setting up our camp kitchen and used the communal facilities to save time. Gigi wrote a description of all that happened in her journal while we waited for Aaron to cook dinner. (She drew a page with black broken bicycle wheels.) I did some laundry, which somehow needed doing even though we'd only been out of Portland for two days. And our stay was otherwise entirely uneventful. The kids' bikes are still broken.