The only two nights of our entire 9.5 week trip that we don't have reservations for were the two nights in Grand Teton. Turns out that none of the campgrounds (except the RV park) allow reservations; they are all first-come-first-serve. From reviews, the best campground is at Jenny Lake, but it's a tent-only spot. The second best seemed to be Signal Mountain, which allows RVs up to 30 ft, but it's almost equally hard to get a campsite. I read that your best shot is to get there by 10am, and that if you get there after noon, you are completely out of luck.
Grand Teton is adjacent to Yellowstone, so we didn't have far to travel, but it still took a couple of hours to get through the park. This meant another very early morning since it usually takes us 2 hours to break camp. We packed up what we could the night before, set the alarm for 6am (actually getting up 15 minutes later), and sent the kids to hang out in the warmed up van to go back to sleep while we packed up our camp. Skipping breakfast and coffee, we almost managed to get out of there by 7:30 when Aaron discovered that the wire to one of the rear lights on our trailer had somehow been cut. Since I'm pretty sure it was working fine when we arrived, our best guess is that a squirrel or a chipmunk liked the way the wire tasted.
Luckily, while I had been hunting down a replacement battery charger in Helena for the one I had left behind in Portland, Aaron had been hunting down a crimper for the one that he had accidentally left behind. So he got it out and fixed the wire on our trailer light. After stopping for coffee and fuel, we were able to get out of Canyon at around 8am.
The journey to Grand Teton was really nice. In fact, if I could do it all over again, I'd skip the trip to Lamar Valley and just go south through the park. The herds of bison weren't quit as big as in Lamar, but there were still plenty of them, and there were also lots of steaming super volcano stuff that I would have loved to investigate further. Next trip to Yellowstone, I'm definitely going to explore this area.
Finally, we left Yellowstone and entered Grand Teton and finally arrived at the Signal Mountain campground at just after 10am. Then we crossed our fingers and carefully made our way through the loop, looking for an empty spot. We looked up, spotting a campsite that someone had put a receipt for bear spray rental in the camping permit envelope that is supposed to tell you whether or not the camp is occupied or not. I took out the receipt and looked carefully, but it was for the day before, and didn't say anything about the camp site. The site itself was empty except for a small old carpet that was only half visible in the dirt. Very odd, but the site was unoccupied, so we snagged it; it even had a driveway just big enough for our van and trailer. There is even a view of the Tetons if you look carefully enough through the trees.
Aaron disconnected the trailer and I took the van down to the campsite office to pay for the spot. I am very glad that I remembered to grab my checkbook because I don't think I had enough cash, and the office was empty when I got there. Old technology sometimes still works.
I went back to the campsite and we took our time setting up camp and getting some brunch. I even cleaned out the van since it was looking pretty crappy after having practically lived in it for over a week.
After a bit of a rest, we went to the visitors' center at Colter Bay and got Gigi's Jr Ranger book stamped. A very helpful ranger told Gigi about all the different animals in the park and directed us to the Lakeshore trail, which is an easy 2 mile loop by the water. The view of the Tetons was spectacular.
The water was very high; it seemed likedly that the big storms we caught at Yellowstone were also here. Some plants and trees were by the lake's edge were submerged. However, on that day, the weather was sunny and warm, a really great change from the cold, wet weather we experienced at Yellowstone.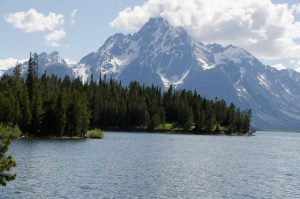 Afterwards, we went back to camp, stopping to pick up ice cream sandwiches at the local campstore as well as some ice for the cooler. Grand Teton has been a relaxing change of pace from the craziness that was both Glacier and Yellowstone.